We are currently accepting rolling enrollments for our 2019–2020 sessions!
Or email us for more information.
Please use the links below to find the specific information you need. If you are considering applying for TDA, we recommend that you read all the information on this page.
TDA at a Glance
Part-time, arts-based education for 6 – 11 year olds (approximately K – 5th grades).
Perfect for homeschoolers, unschoolers, and online academy grade schoolers wanting an arts-based enrichment program. Ideal TDA participants love learning and are self-sufficient enough to flourish in our child-centered program. They are willing to try new things, experiment, investigate, and explore alongside other open-minded kids of varied ages.
All classes take place in and adjacent to our classroom in the historic University Heights building in Seattle's University District. See our Location page for details and directions.
TDA offers two self-contained two-day sessions: Monday/Tuesday or Wednesday/Thursday from 9 am – 3 pm.
TDA is an arts-integrated, child-centered supplement to elementary-age education that joins teamwork among a small group of peers with the flexibility to focus on individual areas of interest. Inquiry, projects, self-directed work, games, and group lessons are some of the ways TDA children learn. Classes are small, allowing participants to develop enduring peer relationships while also benefiting from focused educator attention. Small classes also mean that students form lasting and often transformative relationships with educators.
Each month offers a new interdisciplinary theme focusing on one or more of the fine arts (music, art, and theatre). Our theme units often include springboards into areas of traditional academic study such as science, history, mythology, geography, astronomy, literature, game mechanics, social studies, cyphers and codes, math, physics, nutrition, and more. Read more about TDA's monthly themes.
Read more about our teaching philosophy.
TDA offers two self-contained two-day sessions: Monday/Tuesday or Wednesday/Thursday. Because lessons and themes are designed for two consecutive days with each classroom working as a team, sessions cannot be piggybacked or days mixed up.
TDA Silver
Mondays and Tuesdays, 9 am – 3 pm
TDA Gold
Wednesdays and Thursdays, 9 am – 3 pm
Sessions run September through June and include several school year breaks.
6350 annual tuition + 575 nonrefundable registration fee
Tuition is payable in full at the beginning of the year or in monthly payments of 635 (payable by the first of each month, September through June). Registration fee (575) and last month's tuition deposit (635) are required at registration to secure your child's enrollment space for the upcoming year.
Financial Aid: We do offer some limited, needs-based scholarships or partial tuition reductions. Alternatively, we can offer financial aid in the form of flexible payment schedules. We're happy to discuss these options if your family is in need.
Our admissions process is as follows:
Fill out a TDA application.

Sign up for a visit in our classroom.

If your application is accepted, complete the registration materials and pay your registration fee and tuition deposit.
Because so much of our curriculum is based on teamwork, we build our classes carefully so each child can flourish. Our application process allows us and you to make sure that TDA is the right fit for your family.
Prospective participants must be at least 5 years old and able to enroll within the next 8 months. If your child is not yet 5, try our Dragonfly Fine Arts Camps.
Space in our program is limited because we are committed to maintaining a small class size and a superb educator to child ratio (1:8). While we cannot guarantee you a space for the upcoming academic year, we do sometimes have openings. Please indicate if you would like your child added to our waitpool in the event that a space becomes available.
If you are concerned that your child might not be a good fit, contact us to talk through your concerns before registration. Please note, once you have registered, your deposit is non-refundable.
Apply. Once we have reviewed your application, we will contact you about how to proceed.

Come for a visit. If your application is accepted and we have space available, we'll invite you and your child to tour TDA. Tours last 30 – 40 minutes and both child and parent must attend.

Register. If we agree that TDA is a good fit for your child, we will send you a link to register and submit your deposit and registration fee.
Frequently Asked Questions
+ What do I need to know about homeschooling/unschooling?
Our part time schedule is ideal for homeschoolers and unschoolers, as well as online academy students (Columbia Virtual Academy, Khan Academy, and WAVA online public school, etc.). Mainstream public and private school students can also take advantage of part time student status to participate in enrichment programs like Three Dragons Academy. Many parents find the Home Based Instruction (HBI) handbook (the "Pinkbook") helpful. The "Pinkbook" covers all Washington State laws related to education choice. Please be aware that parents of children age 8 and up might need to file the Washington State Declaration of Intent in order to comply with HBI laws. Read more about the Declaration of Intent here.
+ How many openings does TDA have each year?
We have about three openings per year in each session, although that fluctuates from year to year.
+ When should I apply?
We accept applications year round, but we only schedule tours during the academic year (September through June). Please apply any time for enrollment in the current year.
+ What is the class size?
We are committed to small classes and superb educator to participant ratios. Each session has a maximum of ratio of 1 educator guiding 8 students.
+ Do we have to sign up for the whole year?
We ask that all families sign up for all ten months running September through June. Because of the way we design our themes and lessons with each month building on the next, a yearlong commitment gives the best possibility for your child to grow and learn. If we have an opening, it is possible to join TDA midyear, as long as we arrange a start date that works with our themes. Usually, new participants start on the first of the month. Because group dynamics are essential to our program's success, we do not permit families to drop in and out during the academic year.
+ Is my child's enrollment space guaranteed from one year to the next?
Current TDA participants will usually have a spot in the next year's class until they reach approximately 11 years old. All returning families must reregister and submit the deposit annually in order to hold their spot for the coming academic year. Registration renewals (including last month's tuition deposit and the registration fee) are due January 21 – March 15.
+ What is your attendance policy?
For vacations or sick days, we simply ask that you give us as much advance notice as possible. With advance notice we can adapt the individualized lesson plan around occasional schedule disruptions.
+ What is your sibling policy?
We balance our enrollment years in advance and strive to make sure there's room for each participant's younger siblings. Approved siblings are allowed to register early along with their brother or sister. Once an enrollment space is given up, though, priority for siblings is lost. If TDA is full, applicants may be added to our waitpool if they choose.
+ Can my child attend TDA fewer or more than two days per week?
Sorry, but TDA is strictly a two day per week program. Each two-day week is carefully designed and is efficiently packed with individualized lesson plans, group projects, and a number of team-effort games. Cutting the program week down any further would disrupt your child's experience and that of other participants. Piggybacking the two sessions would mean that your child would be repeating the curriculum which will become boring really fast! Current TDA participants who meet eligibility requirements may enroll in SPARK as well as TDA for a third day option.
+ How much recess or unstructured playtime do kids get each day?
We feature two daily blocks of work time totaling 3 hours or more each day. While we do encourage some theme projects, this is mainly unstructured, child-led discovery time. Additionally, we provide 45 – 60 minutes of daily outside playground time, rain or shine (we've yet to cancel a recess for weather).
+ Do you use technology in the classroom?
Yes, though generally not the screen- or internet-based variety. We tend to use technology as a building block for our arts projects. We give our participants opportunities to create projects using tools like snap circuits, theatrical lighting dimmers, motors, wirenuts, and batteries. Our monthly themes have resulted in some pretty remarkable engineering projects: designing a remote-controlled Perry The Platypus robot; wiring and unwiring motion sensors; building solar-powered model cars strong enough to carry a classroom chair. In the future we might offer coding classes, gaming camps or other tech-related options outside of our 2-day TDA sessions. Other than that, we're confident participants have ample opportunities to work on tablets and laptops outside of their 12 hours a week at TDA.
+ How do you handle allergies and food restrictions?
We are humble educators with fine arts degrees giving lessons in a shared, public community-center building. So, while we can respect food restrictions to some degree (in what we serve for snack or treats), it is simply impossible for us to provide a true allergen-free environment.
+ Can you administer medications?
We cannot administer or monitor any medications.
+ What involvement opportunities are available for parents at TDA?
TDA has an active parent group (the Dragon Aerie) which facilitates playdates, field trips, donation drives, and curriculum swaps throughout the year, at times and places outside of the 2-day TDA week. Aside from our small teaching staff, no adults (including family) are permitted in TDA spaces during class time unless there's a special reason approved by the TDA classmates in advance. We invite family or friends into the classroom only for special events like a Winter Showcase performance or a Family Game Night. New participant family tours and special guest artists are the rare exceptions, but even those are reviewed by the children beforehand. Audio or video recording of the kids in their space is strictly prohibited (except by staff).
+ How long can my child attend TDA?
TDA is designed for participants in the K to 5th grade age range, roughly 6 to 11 years old. For those seeking a full grade-school alternative, we've designed the curriculum for the learning style usually associated with the entire elementary time period of K through 5th grade. Participants aging out of TDA can transition into our SPARK program.
+ Can I write off TDA as qualifying childcare expenses on my federal tax forms?
Please see your tax professional for confirmation for your particular situation and the latest updates. Our tax advisor told us this: "Wish you could, but no." IRS forms do not encourage tax benefits for alternative education families (educator expenses, for example, are very hard to apply to homeschool parents). At issue: TDA not a school and we're not a childcare.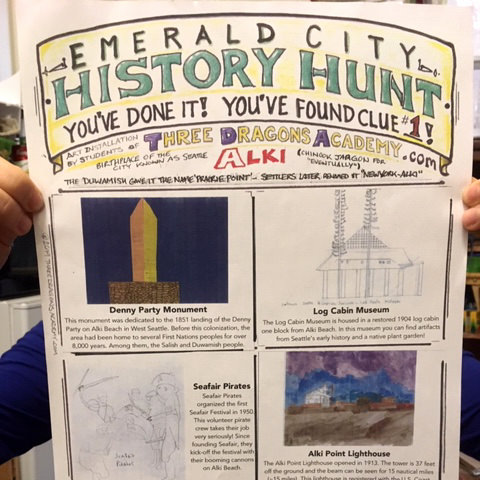 Emerald City History Hunt
Our 2018–2019 Three Dragons Academy students created this cross-city history hunt as the culmination of their art and history studies. The hunt was designed as an experiential exploration of Seattle art and history for the whole family.
In January of 2016 TDA studied painting and scale via an astronomy-themed lesson plan. Our participants painted all of the planets (and a few dwarf planets too). We then created a region-wide art installation by placing scale-sized images (either on the sidewalk or on sandwich boards) at an accurate scale distance from our 18 foot wide sidewalk painting of the sun. Our planets spanned out from there throughout Seattle and out into our surrounding farmland.