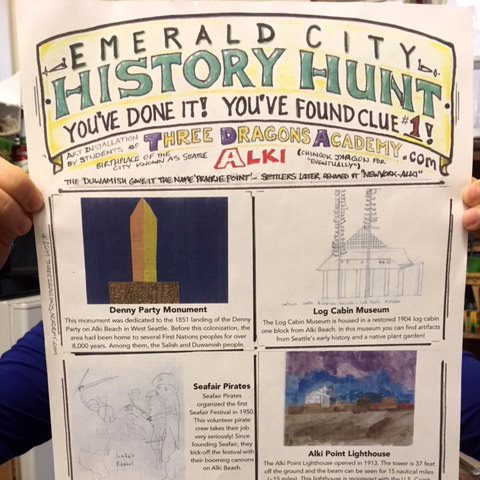 Emerald City History Hunt
Our 2018–2019 Three Dragons Academy students created this cross-city history hunt as the culmination of their art and history studies. The hunt was designed as an experiential exploration of Seattle art and history for the whole family.
In 2018–2019, our year two SPARK students spent the year learning about sound engineering, music, and drama. Using all those skills, they then worked to create their own radio station and program! Students chose a frequency, built a DJ booth, and wrote and performed all programming!
In 2017, our year one SPARK students created a public art Installation on the corner of 50th & the Ave! Students designed their own tessellation-based art and theatre and created a public art installation for everyone to enjoy!
In January of 2016 TDA studied painting and scale via an astronomy-themed lesson plan. Our participants painted all of the planets (and a few dwarf planets too). We then created a region-wide art installation by placing scale-sized images (either on the sidewalk or on sandwich boards) at an accurate scale distance from our 18 foot wide sidewalk painting of the sun. Our planets spanned out from there throughout Seattle and out into our surrounding farmland.